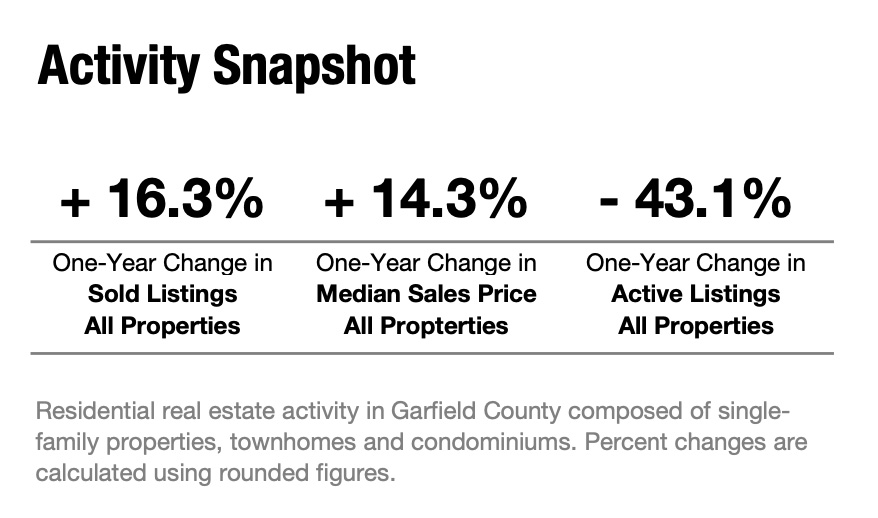 The pressure on the real estate market kept amplifying last month. Winter is usually slower in our industry but this year is different in every way possible. There were 16.3% more homes sold this year in December than last year, the median sale price rose 14.3% and there are 43.1% less active listings.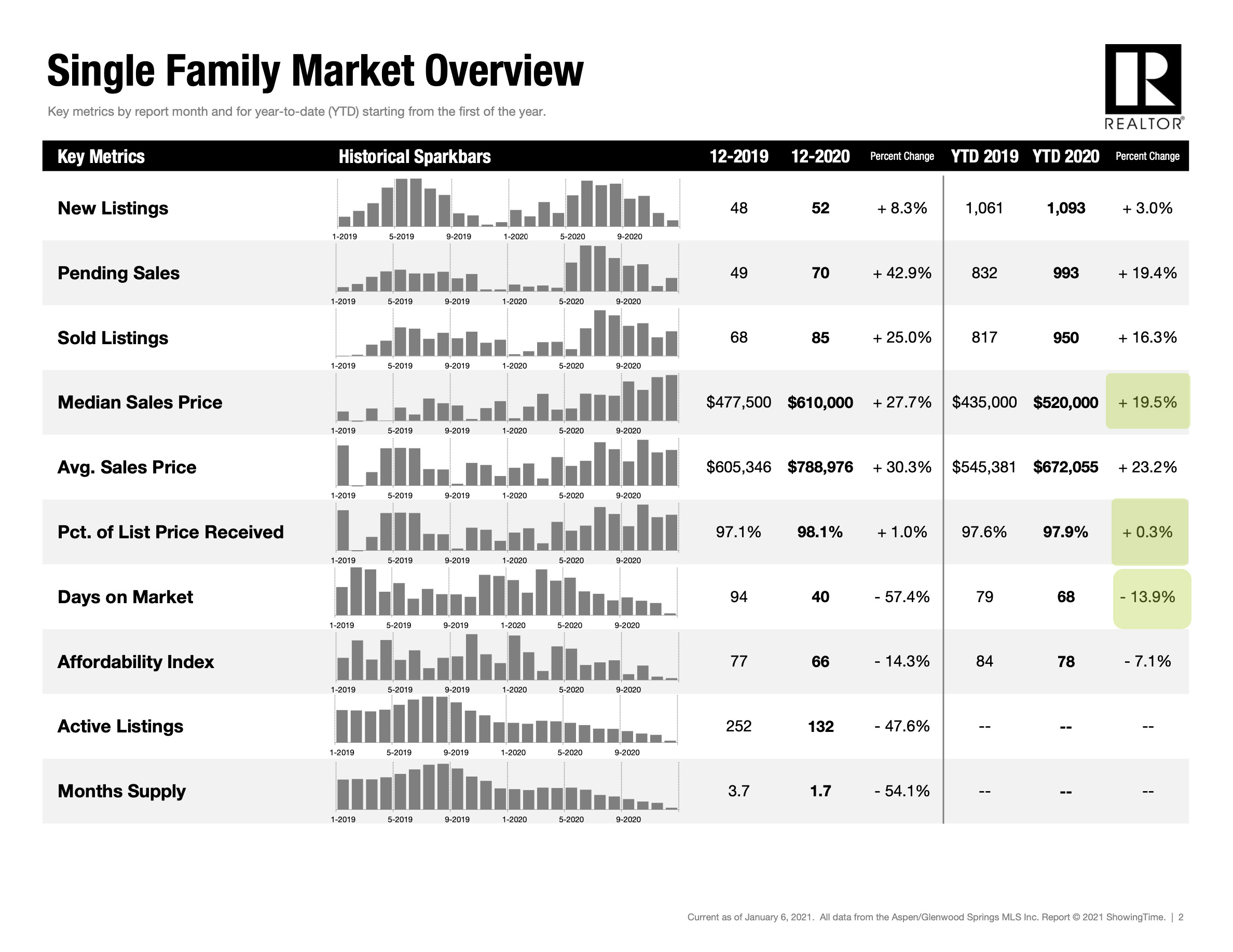 The single family homes are really what people are after. As we heard many times in the media, homes became the crucial factor of one's quality of life this year because of the work from home situation/lockdown imposed by the pandemic. Single family homes with a backyard to enjoy are a hot commodity from the suburbs to the mountains. This month, single family homes sold for 19.5% more than last year! Seller even received more than they asked (0.3%)! Listings were scooped up at record pace - they stayed 13.9% less time on the market before getting under contract than last year.
What drives the prices up? The answer is to be found in the mechanics of offer and demand. Buyer are still just as excited to move up here than they were this summer, and seller are skittish, reluctant to have potential buyers coming in their home for showings, and to get out there to find replacement properties. Offer is low, demand is high, prices go up. We see buyers competing for the only listings available and overbidding each other to acquire homes.
You can see how active the market is by looking at the pending sale each month. 2020 will remain as a record year historically!

Appreciation of real estate in the Valley has had a 10 year run and it has accelerated this year. Interest rates being at an all time low are helping the real estate frenzy to continue.


The inventory of active listings is an indicator of the level of offer and demand and therefore drives prices up and down directly. The inventory is at an historic low, and it's likely that prices will keep going up until buyer's budget is completely maxed out. That's why we want to keep and eye not he affordability index.
The increase in price caused the affordability index to start dropping last month, and as price keeps going up, buyer have to stretch their finances more and more. The affordability index was down 13.4% last month compared to last year.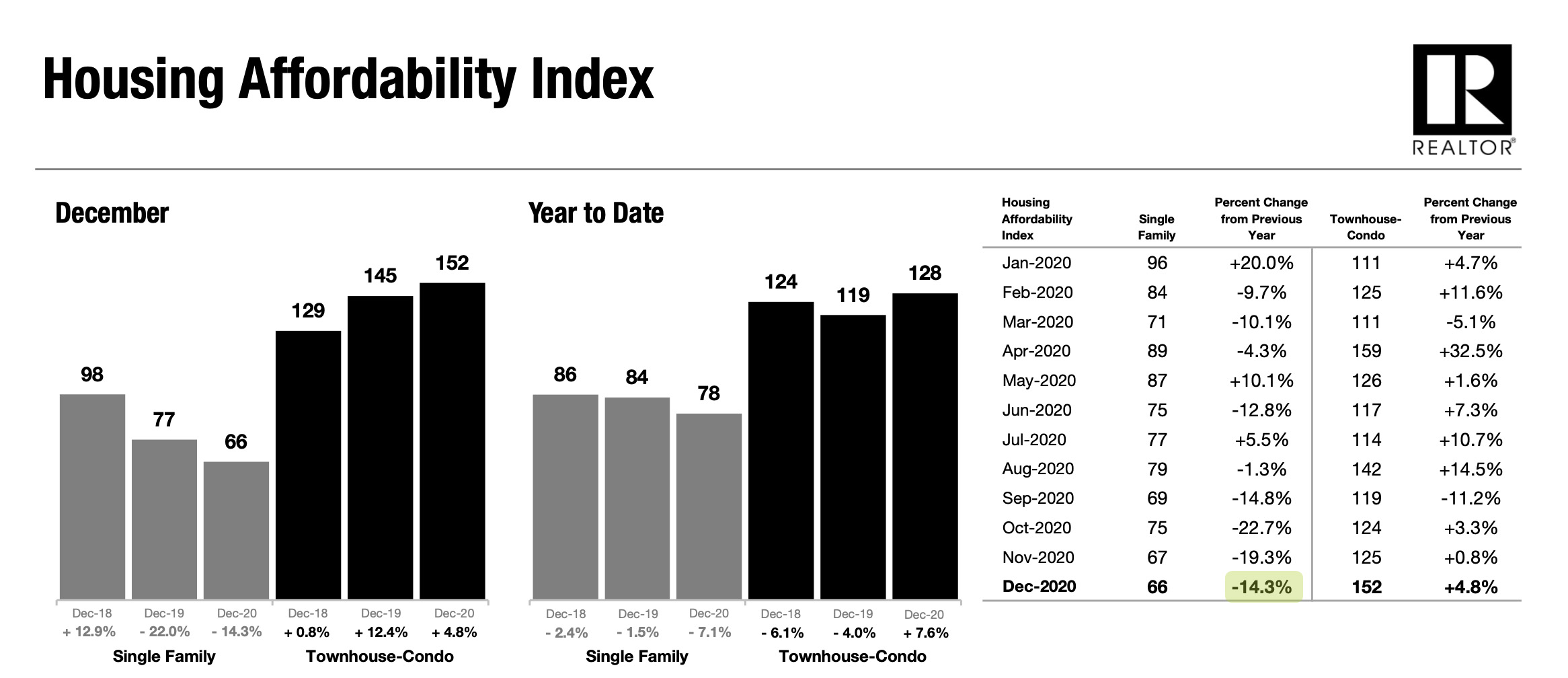 As a conclusion, we can say that the pressure on the market is at its maximum, and that buyer's seem to be paying the price for this pressure. Inventory is always low at this time of the year and the excitement of buyers as well as low interest rates and the desire for people to move to the mountains is making this market really tough on buyers' side. We will see change in market conditions when new inventory comes in... Whenever that will be!
Matt Dumoulin // Dillard Team at Integrated