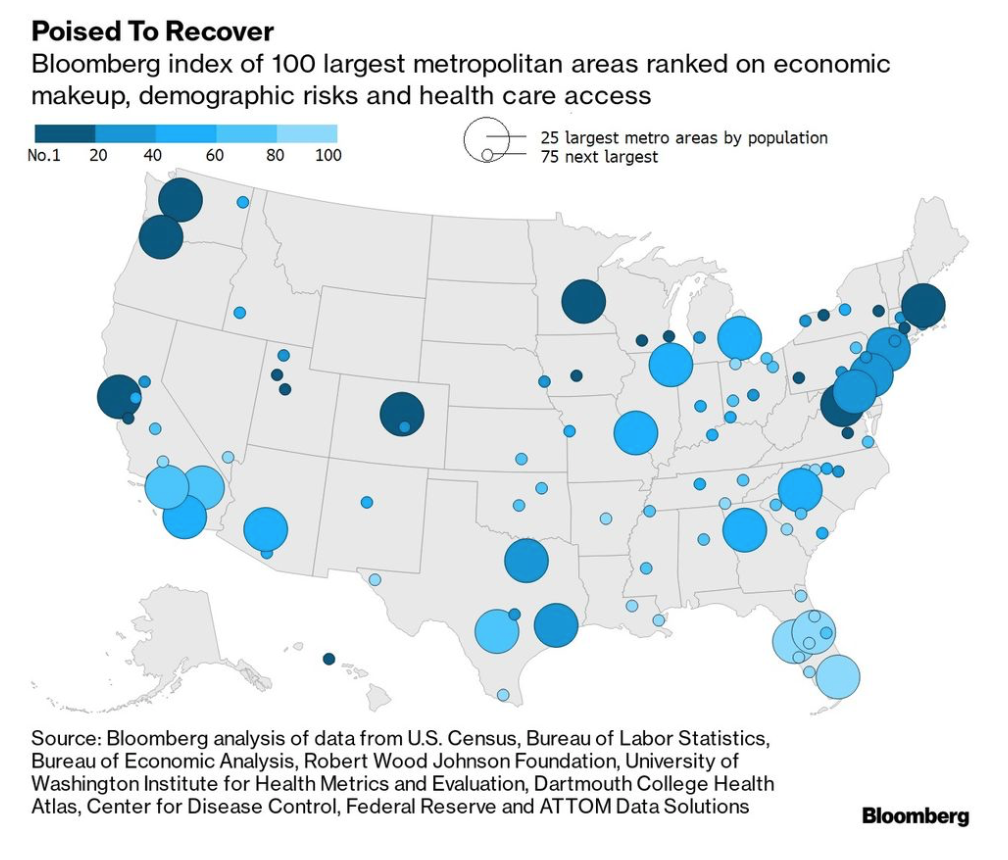 In a recent study Bloomberg found that Denver ranked 11th amongst all American cities for economic recovery pace.
The Coronavirus pandemic triggered unexpected changes and a global economic downfall that spared few. Though some areas will do better than others. For Bloomberg, these are the 5 main reasons why a city like Denver will recover better than other:

Well Educated work force: The front range is consistently in the top 10 for college educated knowledge workers. These are going to be the in-demand jobs after the pandemic subsides
Younger population: The front range has a young population compared to many other large metro areas and continues to attract young well educated workers
Excellent healthcare: the medical facilities in the front range are top notch. UC health is the nations top hospital for respiratory care . Respiratory failure is one of the key side affects of coronavirus
Younger city: The city of Denver and various cities throughout the front range are relatively young compared to many others throughout the nation and therefore were built more efficiently and don't have the legacy assets of older cities from pensions to sewer systems to mass transit saving taxpayers and businesses on property and income taxes.
Quality of life: The Denver front range is consistently ranked high for quality of life with open spaces, trails, skiing, etc.. a short distance from the city.
A quick recovery in Denver will play in our favor for our own recovery here in the Roaring Fork Valley. Our heavy reliance on tourism and the rise of domestic tourism might accentuate this relationship. Since airports and planes were deserted, people are more likely to drive to their vacation destination. Being within driving distance of Denver is a big plus for our economy.
Meanwhile, it seems like our valley has become more attractive in comparison to other hot real estate markets like downtown areas of big cities during the pandemic. We can certainly claim having a good quality of life here. We've enjoyed greater opportunity to get outside and have fun even during the hardest part of the lockdown. We've seen a lot of interest from out-of-state buyers for the valley's real estate. As the Post independent reported this week, "There's been a perfect storm of events over the past few months that has led to people opting to flee city life for the relative isolation of the smaller towns, including Aspen. Demand for local real estate is booming to the point where brokers are having a hard time keeping up."
If you want to see how market conditions were affected my the latest events, click here to read our market update for July 2020.
Ressources/additional reading:
https://www.bloomberg.com/news/articles/2020-06-19/these-u-s-cities-are-likely-to-recover-faster-from-lockdown?srnd=premium

https://coloradohardmoney.com/denver-real-estate-outperforms-the-nation/

https://roaringforkhomes4sale.com/p/23970/local-real-estate-market-update-july-2020
https://www.usatoday.com/story/travel/advice/2020/05/24/coronavirus-when-domestic-and-international-travel-rebound/5245908002/