The fair must go on! See what this summer's creation will look like and make sure to mark the date on your calendar, if its not already, and go support the small businesses of our community and this thriving event.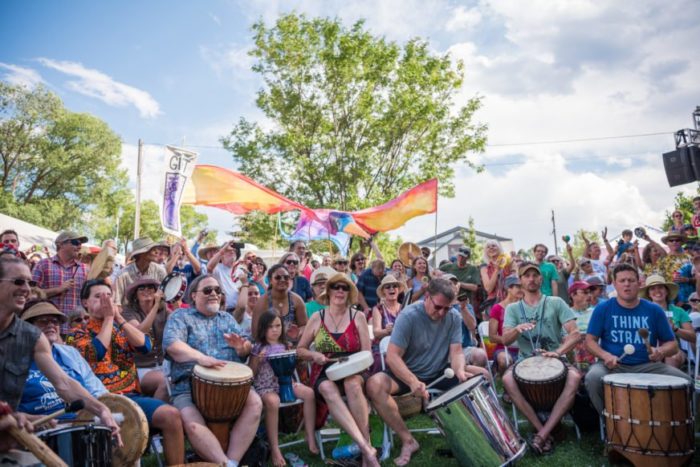 "A fair like no other is how Carbondale Arts executive director Amy Kimberly describes this year's 49th Carbondale Mountain Fair. "We're looking at smaller bursts of joy throughout town," she said.
First and foremost, Sopris Park is not a venue this year for music, vendors, or competitions. In fact, Kimberly said there will be no food vendors at all.
"We want people to support our local restaurants," she advised.
Kimberly hopes that Batch will create a special brew for Mountain Fair this year but that's still in the works along with most of the details about what this year's celebration will look like.
What she knows for sure is that the opening drum circle will be town-wide and the music line-up will be local and regional.
"We'll take the music to the people," she explained.

A flatbed truck will carry musicians throughout Carbondale on Saturday and Sunday. "We're excited about the prospect of reaching people we don't always reach," she said. Imagine, she said, a mariachi band, traveling to the Latino community or Sunday morning classical music for Heritage Park residents or those living in senior housing.
Saturday Night Live, a Carbondale Arts fundraiser, is scheduled to stream live from Steve's Guitars, featuring music, spoken word and storytelling, resembling a virtual mash-up of what typically happens on the Main Stage throughout the weekend.
This year's downside is that the traditional wood splitting and limbo contests could be nixed for other, more socially-distanced events.
"We're looking at some kind of bike experience and we are looking into the possibility of doing a longer running race with Independence Run and Hike," Kimberly explained. A fly-casting competition would make a good socially-distanced event. "We might invent a few new ones," she added.
The pie and cake competitions are still on the table, so to speak, but will look a little different. Kimberly said bake sales supporting Carbondale Arts might pop up around town that weekend but she's not sure.

Carbondale Arts is taking a big hit this year by shrinking the fair.
"The organization nets between $60,000 to $100,000 each year," said Kimberly. "The Fair and the [Green is the New Black] Fashion Show make up more than a third of our budget." But other fund-raising efforts are underway to offset the loss from this year's fair.
The Mountain Fair t-shirt, designed by Jade Meyer, plus a new Carbondale Comeback Passport, a coupon book, featuring discounts from businesses throughout the Roaring Fork Valley, will be for sale. Kimberly said the t-shirt and Passport will be available at the Launchpad, online at carbondalearts.com, and at the Wednesday Farmers' Market in town.
"We'll be at the Farmers' Market every Wednesday afternoon," she said.
Kimberly said that Carbondale Arts considered cancelling Mountain Fair altogether because running the fair this way would take a lot of effort for little financial return. But, she added, that's not the spirit of Mountain Fair.
"We know that it's probably going to cost us more money to put this on that we won't necessarily get back, but we have found that, in this community, you pay it forward and people get back to you."
She added that now more than ever, people need to feel the connection and inspiration of the annual Mountain Fair.

"We've had this fair for 49 years and the process of coming together has really helped us to take that spirit and live it throughout the year whether we agree or disagree on things," she explained. "We think that's important now more than ever."
Source: Sopris Sun