The Colorado Association of Realtor (CAR) released their latest report for October 2019.
As we are moving towards the slower time of the year, we see a further decline in inventory and an ever-stronger demand, confirming our observation of the September statistics. Sales are happening quicker, putting pressure on buyers and giving advantage to sellers. Even though the buyers face intense competition, affordability stays at sustainable levels. Also worth noticing: the townhouse/condo market gets a boost from the lack of inventory in the single-family space.
Let's look at the detail.
ASPEN TO GLENWOOD
- Inventory shrinks further -
We've experienced a dramatic drop in new listings: -35.6% in October year to year, and -10.6 year to date compared to 2018. The pending sales are also up 28% compared to the same month last year, further straining the expected offer for the upcoming couple of months. As the offer is drying up, we can expect prices to keep rising in a steady way.
As inventory shrinks further, median sale price also is experiencing a steep fall, -13% year to year in October. This is probably an indication that most of the action is happening on the lower end of the market.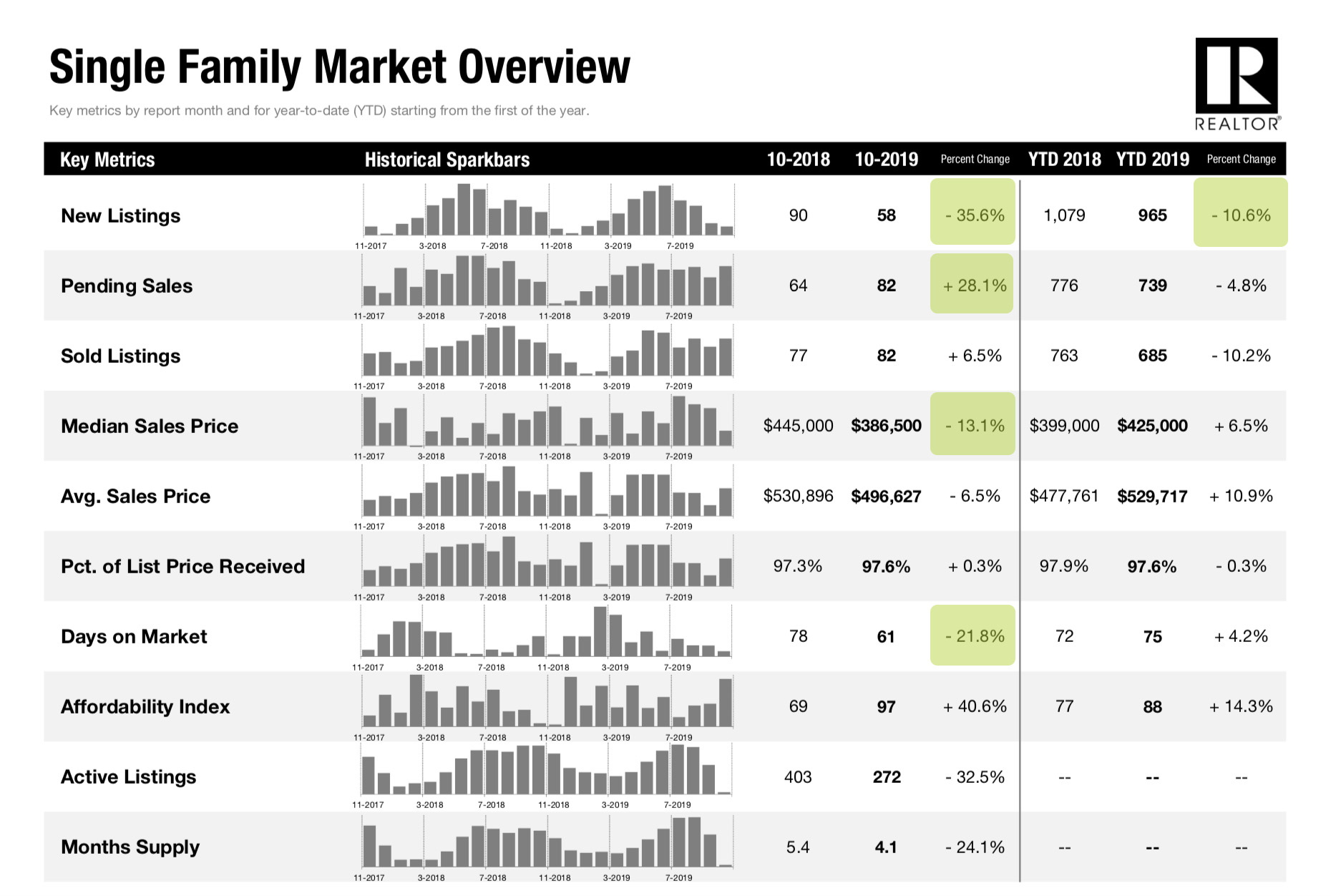 The significant drop in new listings in October follows another one that happened in September. The shrinking offer seems to be a defining trend for the present market.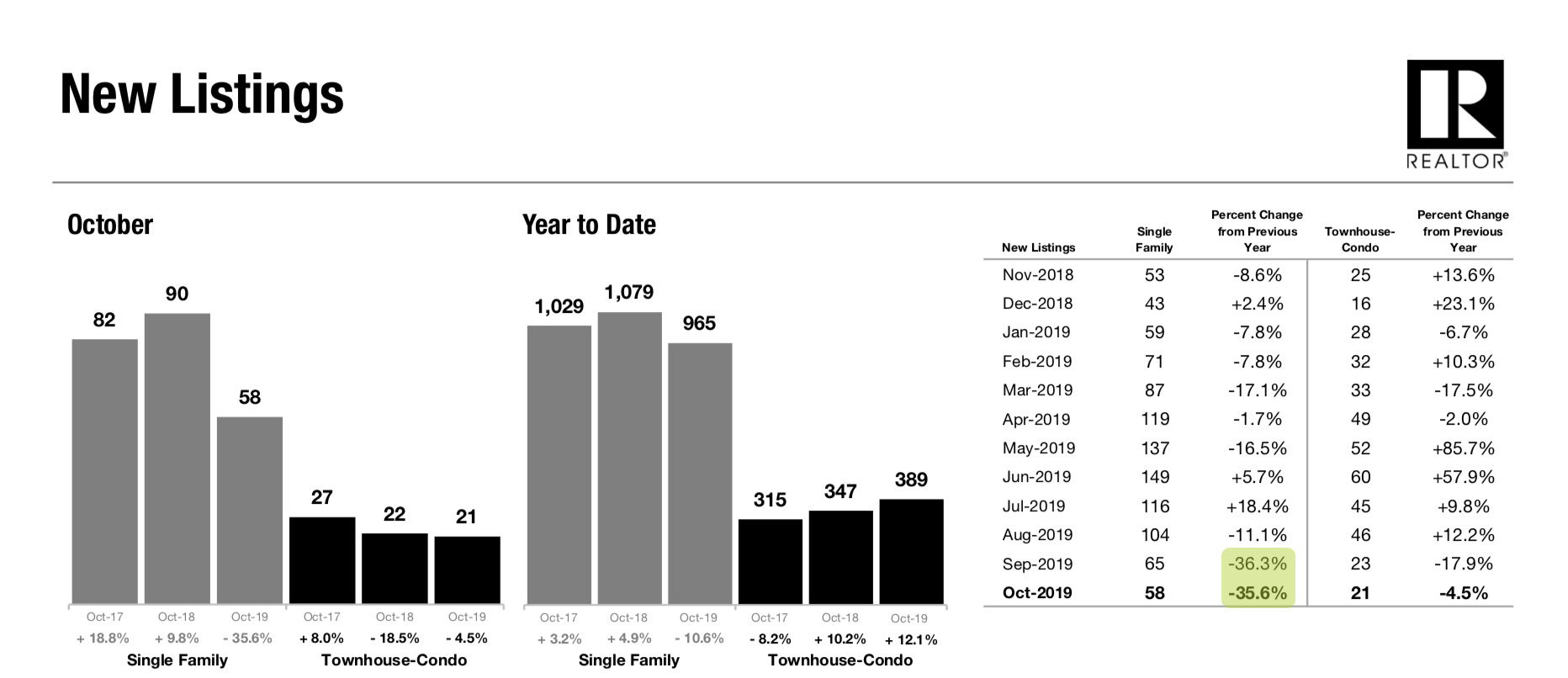 As the offer in the single-family space shrinks further, the townhouse-condo space gets a boost. With pending sales up 30.4% and average sales price up 29%. It looks like buyers' interest has shifted toward this segment of the market as single-family homes became a rare find.
Even if the offer seems to be responding to that increase of interest (+12% year to date on new listings), we can anticipate that prices might go up for townhouses and condos in the near future, since they seem to become a hot commodity. With the current pace, we only have 2.7 months of supply, down 32.5% since last year, despite new listings being up 12.1% year to date compared to 2018. If this trend keeps going, we should see an appreciation of townhouses and condos in the near future.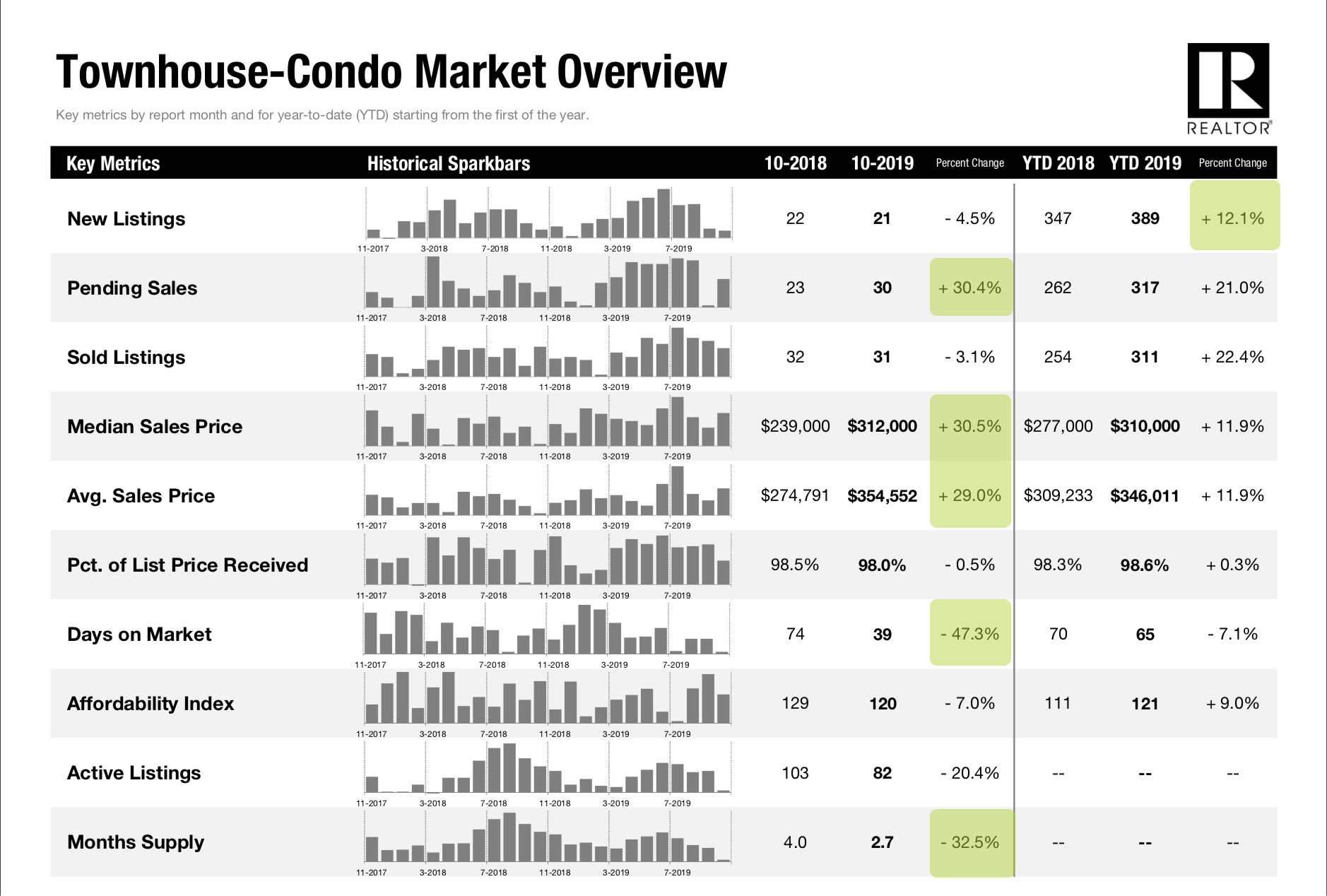 With a shrinking offer and strong demand on both single-family homes and townhouses/condos spaces, prices keep creeping up and seem to now have reached their pre-crisis level.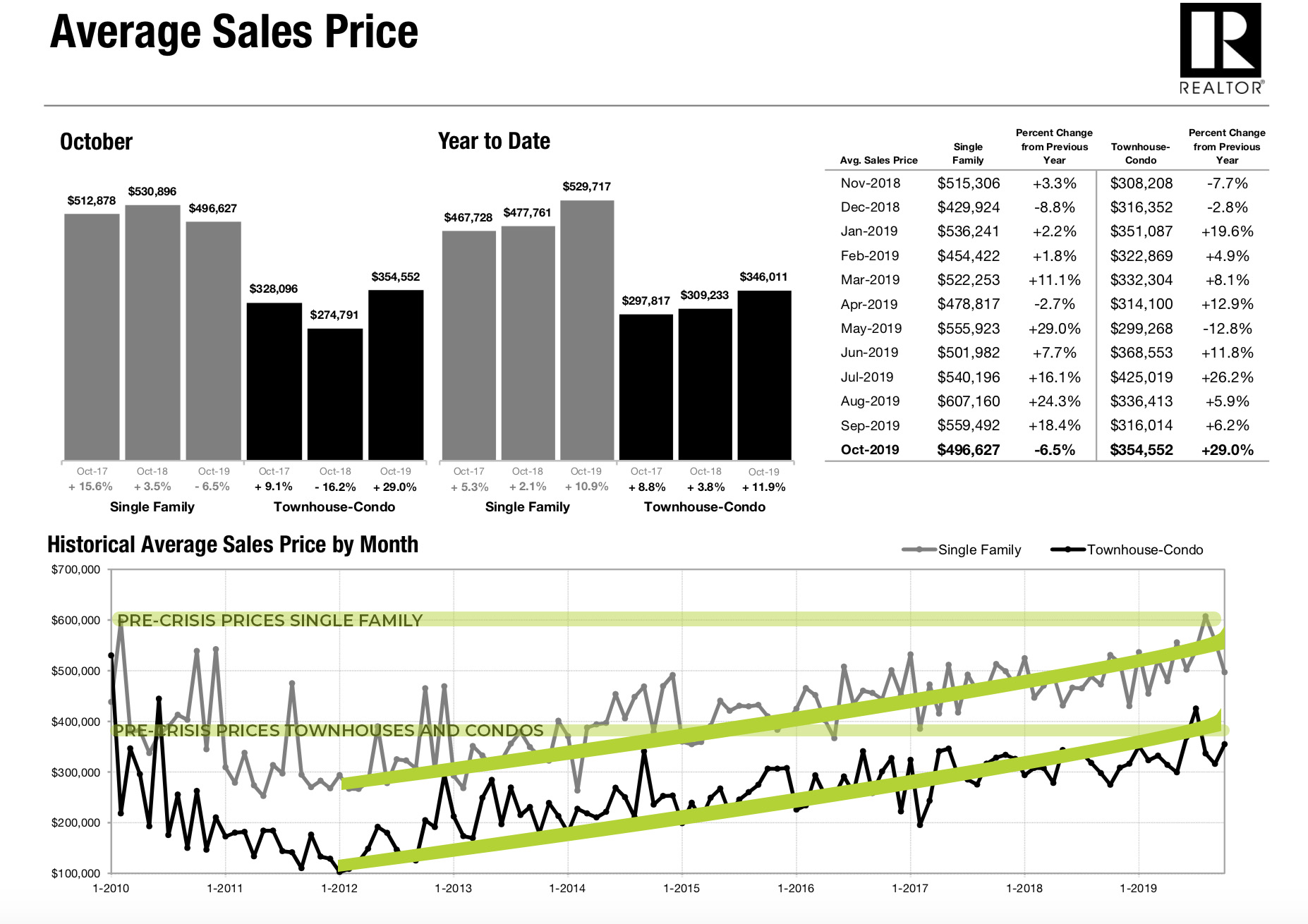 Under these circumstances, it's no surprise that the average list price received is almost 100%, making it a competitive market for buyers and giving a comfortable advantage to sellers. The average time on the market before closing is steadily going down. It's only 39 days for townhouses and condos, barely over a month!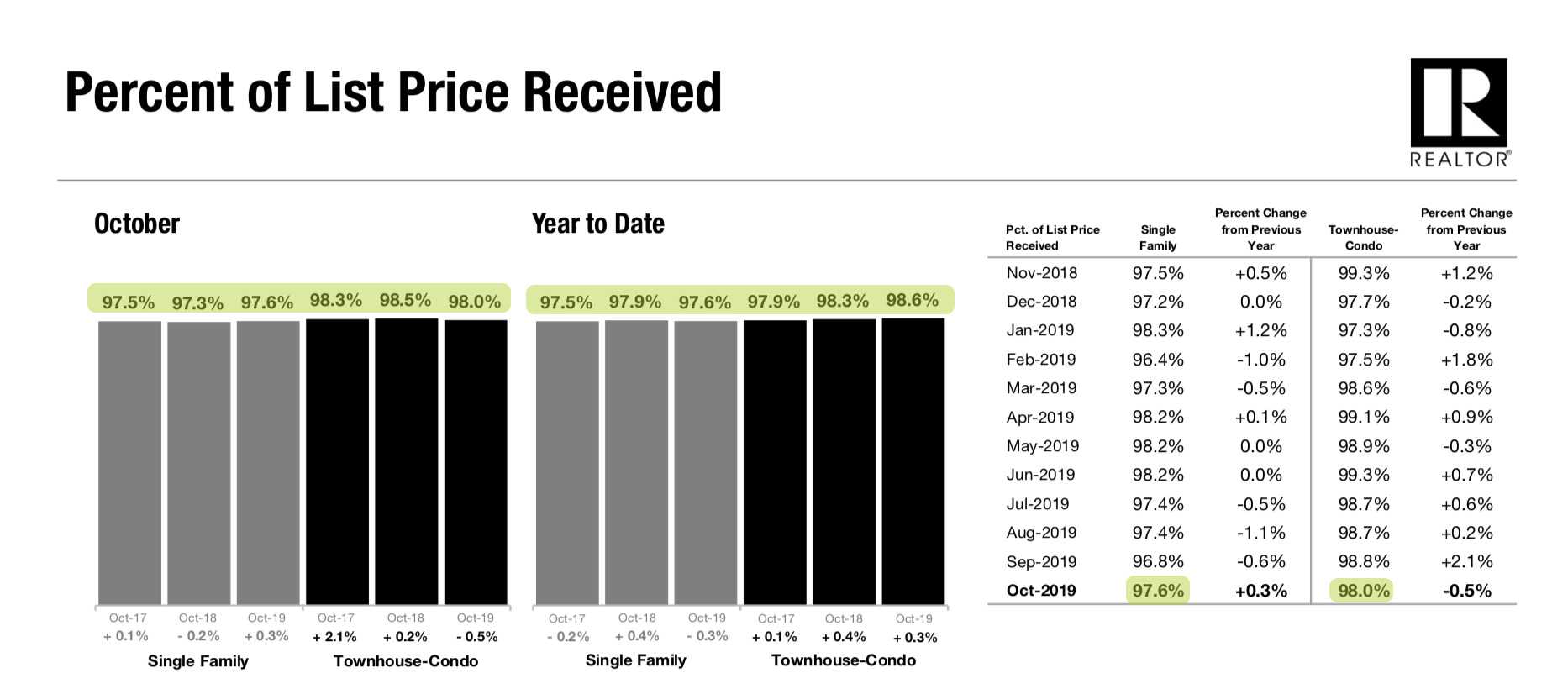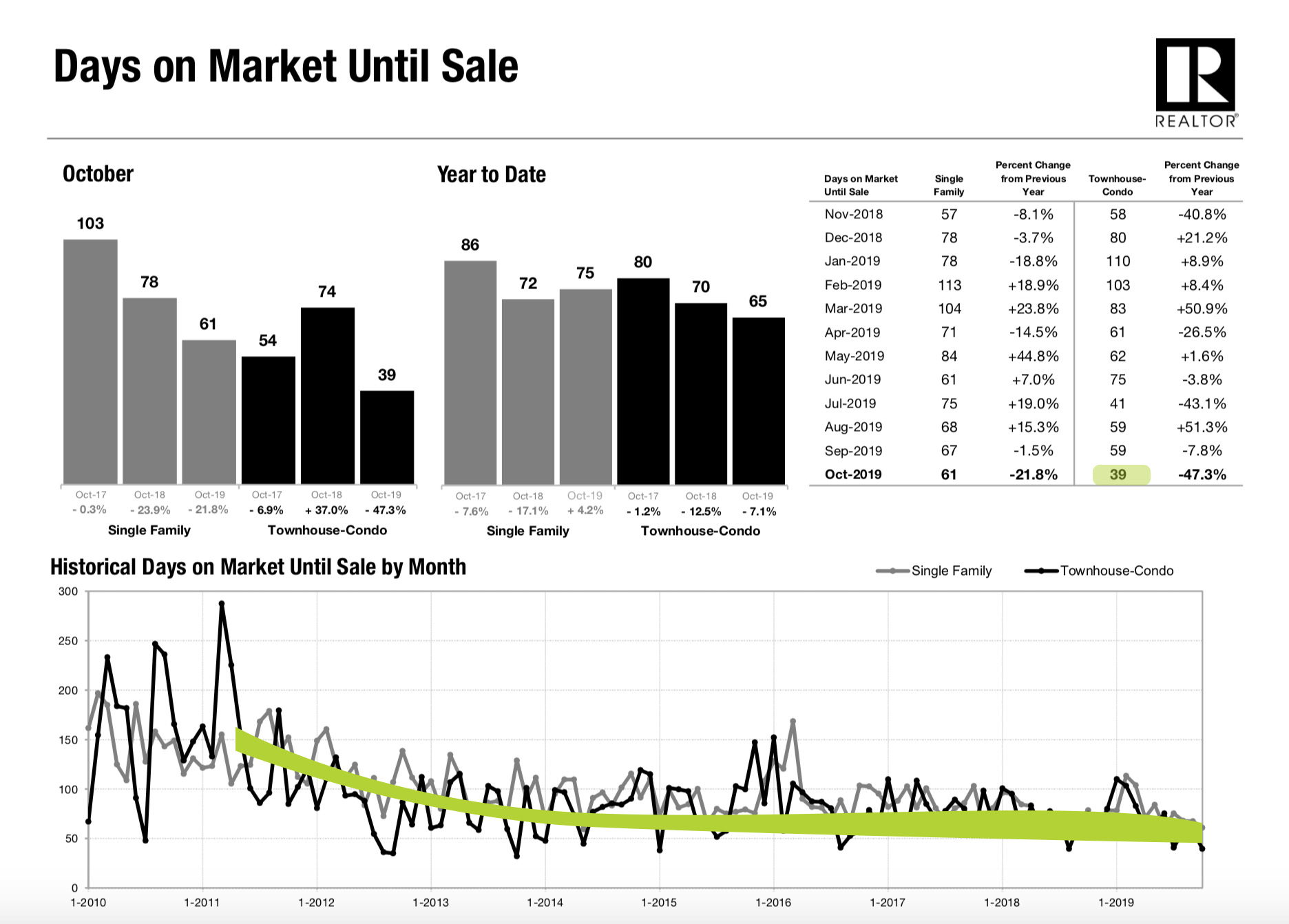 Despite a hard market for buyers, affordability remains at a decent level: 97 for single-family homes and 120 for condos and townhouses (under 100 being less affordable, over 100 being more affordable.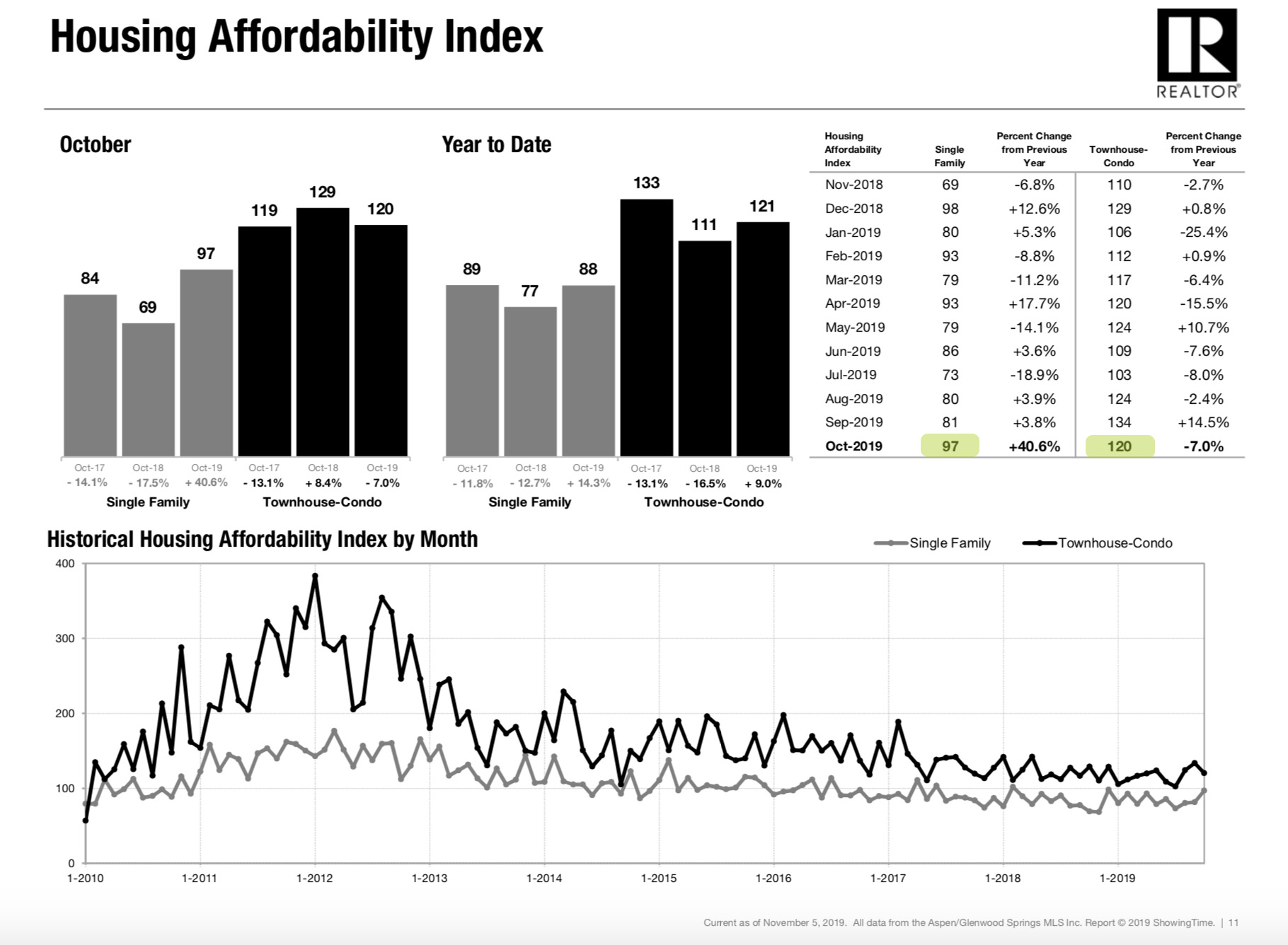 BREAKDOWN PER TOWN
The trends we've observed on the Aspen to Glenwood MLS area can also be identified in each town's local market. Inventory tightening, prices trending upward and quicker sales are happening all through the Roaring Fork valley and beyond.